Events
November 18, 2011 - New Website
Official Metro Medical Services, Inc. website launched.
Professionally Trained Staff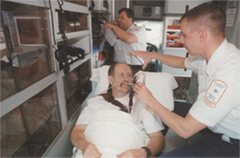 A team approach to company management is a priority commitment at Metro. "Open Door" communication between the field paramedic and management has resulted in participative decision making utilizing quality circles.
An in-house Quality Assurance Program reviews the care provided by Metro paramedics and EMTs. By developing ride-along programs, Emergency Medicine Residency and Critical Care Nurses learn about pre-hospital medicine first-hand.
Metro paramedics are also required to maintain certifications in Advanced Cardiac Life Support (ACLS), Basic Trauma Life Support (BTLS), Pediatric Advanced Life Support (PALS), and Neonatal Advanced Life Support (NALS) along with the State of Illinois Department of Public Health and National Registry certifications.
Contact us to inquire about job positions available at Metro.