Events
November 18, 2011 - New Website
Official Metro Medical Services, Inc. website launched.
Special Events Medical Coverage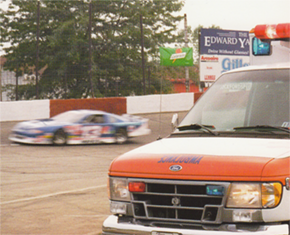 If your organization is planning a special event, put the medical coverage in the hands of Metro. Event planners can depend on Metro's expertise in designing flexible coverage plans tailored to meet the special needs of large gatherings, sporting events, concerts, and conventions.
Metro is proud to provide the first Bicycle Medics and EMS Golf Cart to the area. These fully Paramedic Equipped units enable our medical teams to quickly reach a patient in any terrain and densely populated area. Metro has used these teams for such events as: Rockford Pro-Am golf tournament, Rockford Speedway, Young at Heart Festival, Presidential visits, and local High School & College Football games as well as many Rockford Metro Center Events.
By utilizing Metro, a link is made with the entire EMS system. Thus assuring the most efficient care possible for participants and spectators alike.
Contact us for information on acquiring Special Events Medical Coverage.